Jungle Marble Blast
2.4.1
Marble Shooter Game – Eliminate Marbles to Stop the Line
Do you like playing match-3 games? Would you like trying a new type of match-3 game? If yes then this marble shoot game is an ideal choice for you. Jungle Marble Blast is a fun game in which you get to shoot marbles and try to blast them off before they reach the line's end. It is a mix of match-3 and shooting games. You are asked to shoot marbles precisely to form matches of 3 or more same-colored marbles. The task seems simple enough but the caveat is that this line is moving very fast. You need to shoot your marbles quickly and form a match or the line will speed towards the hole at the end. If the line reaches the end, the game ends.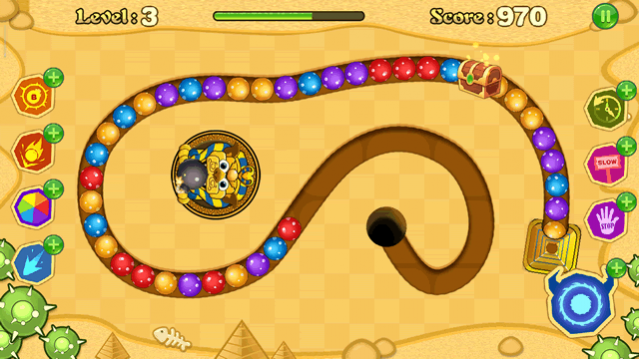 Jungle Marble Blast has fast-paced gameplay. You have no time to wait around. As the marble line comes into view, you need to find the marble in it which has the same color as the marble you have. Once found, you need to tap on that marble to shoot your marble towards it. If there are two same-colored marbles in the line then you should target them. You can only eliminate the marbles from the line by creating a match of 3 or more same-colored marbles. So, make sure that you do that as regularly as you can. If you wait for the right marble to come along then it might become too late and the line will reach the end. Thus, it is a good idea to keep shooting marbles quickly.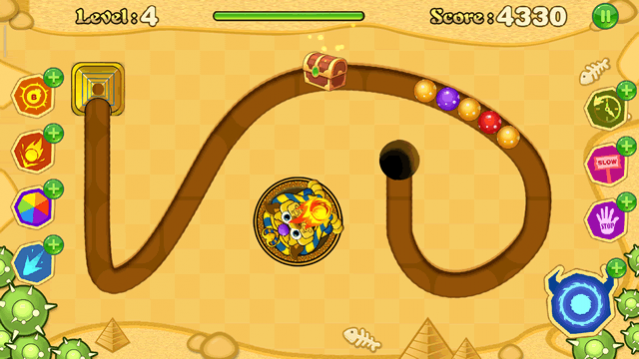 This marble shooter game is very attractive to look at. The graphics of this game are very well-defined which enhances the gameplay experience. There are various challenging levels that you get to complete in this marble shooting game. The map on which you get to play changes for each level. However, your objective is always the same; to stop the line from reaching the hole at the end. In this quest, you might encounter some hindrances. For instance, sometimes the map will be designed in such a way that the line crosses itself by means of a bridge. You will have to shoot marbles carefully as they might miss if you shoot them at the bridge. Moreover, the bridge will momentarily obscure your vision of the line too.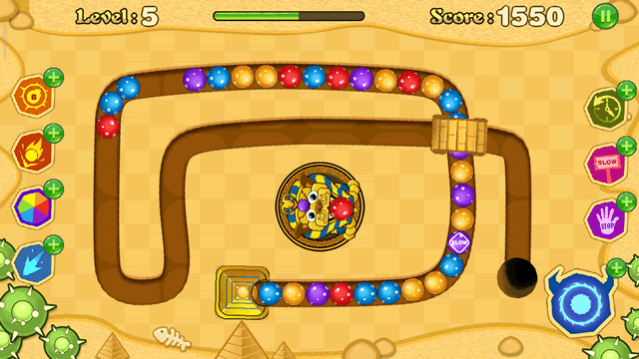 Jungle Marble Blast offers you boosters to help you complete difficult levels. These boosters can make it easier for you to eliminate the marbles in the line. However, these boosters don't come cheap. You need to purchase them by spending gems. These gems can be collected by shooting the treasure boxes that appear during each level. Also, you are awarded gems for completing each level. You can create combos to eliminate marbles quickly too. However, creating combos is difficult. You have to hit the marble in the line that is glowing and create a match with it if you want to create the combo. Creating combos can help you in earning extra stars too.
Features:
Various challenging levels to complete
Shoot marbles on a line of marbles
Stop the marble line from reaching the hole
Create pairs of three same-colored marbles to eliminate them
Eliminate all the marbles to complete the level
Shoot the treasure boxes to collect gems
Various boosters available to help complete difficult levels
Purchase boosters using the gems
Create combos to earn more stars
Conclusion:
Jungle Marble Blast is a gaming app that is ideal for people who love playing matching games. It provides them a different challenge from the match-3 games by letting them shoot marbles on a speeding line of marbles to create matches of 3 or more same-colored marbles. It is a marble shooter game worth having on your phone.
---
Add a review
Tell us your experience with
Jungle Marble Blast
2.4.1
RELATED PROGRAMS
Our Recommendations
---
---
---
---